Photograph
Specification
Chemiclean's Price
BD 500
Bactericidal Neutral Detergent Concentrate

BD 500
is a concentrated bactericidal Pot and Dishwash detergent and multi-purpose cleaner. BD 500 is recommended for use where hygiene considerations are paramount, it is widely used throughout the Catering and Food Processing industries.
Dishwashing: Dilute BD 500 at a rate of up to 30 mls per 5 litres of hot water (150:1). BD 500 will clean the greasiest kitchen utensils without streaking
Walls, Floors and General cleaning: Dilute BD 500 up to 90 ml per 5 litres of hot water (50:1). Depending on the degree of soiling, apply by mop or sponge. BD 500 can be safely used on all hard surfaces.
Bactericidal Activity: BD 500 contains a powerful bactericide, which is active against the following micro-organisms: Staphylococcus Aureus, Salmonella Typhi, Escherichia Coli, Pseudomonas Aeruginosa
Packed in 5 litres and 25 litres - Free Pump Dispenser with orders of 20 litres and over
£1.53 per litre
BIOCLENSE
Bactericidal Cleaner and Degreaser

BIO-CLENSE is a concentrated specialised cleaner and degreaser which readily emulsifies animal fats, blood, protein, vegetable oils and general grime

or as a "Spray and Wipe" Cleaner for tables and retail serving areas.

Manufactured to meet food standard for biocides EN 1276 BIO-CLENSE is suitable for a wide variety of cleaning operations, including worktops,tables, floors and walls, and because of its non-tainting bactericidal properties it is particularly suitable for kitchen hygiene operations. BIO-CLENSE is specifically formulated to dissolve grease and grime without the need for hard scrubbing. BIO-CLENSE can be diluted with up to 30 parts water.

Bactericidal Activity:

BIO-CLENSE contains a quaternary ammonium biocide, which is active against a broad spectrum of bacteria. BIO-CLENSE is affective against both gram negative and gram positive bacteria:- Staphyloccus Aureus, Escherichia Coli and Pseudomonas Aeruginosa

Packed in 5 litres and 25 litres - Free Sprayer with orders of 20 litres and over
£1.98 per litre
BIOSAN
Residue Sanitiser
BIOSAN is a powerful sterilising agent, which is particularly effective in killing bacteria in food processing areas. Although primarily a sterilising agent, BIOSAN has detergent qualities and can therefore be used to quickly and effectively clean and sterilise all hard surfaces. BIOSAN has been specially formulated to give effective sterilisation for all hard surfaces in Food Plants, Food Delivery Vehicles, Food Shops, Abattoirs, Canteens, Kitchens, etc
Sterilisation: Freshly cleaned surfaces can be completely sterilised either by immersing or swabbing with a 1% solution of BIOSAN. Surfaces may be rinsed with water after a contact time of up to 1 minute and allowed to dry
Initial Hard Surface Cleansing:
Ideally, clean surfaces using BIO-CLENSE as directed, however, for lightly soiled surfaces, dilute BIOSAN at a rate of 1% to 2% (1.5 oz to 3 oz per gallon) in hot water
Packed in 5 litres and 25 litres - Free Sprayer with orders of 20 litres and over
£1.98 per litre
THICK BLEACH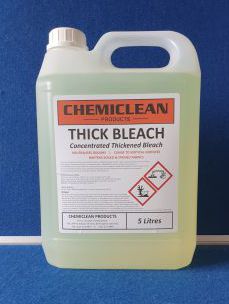 Strong Thick Bleach is a viscous liquid that "clings" to vertical surfaces to provide a powerful and effective hypochlorite disinfectant, which kills all known germs and destroys unpleasant odours by oxidation. It can be used for general disinfection of drains, toilets, sinks and waste bins
Packed in 5 litres
1.10p per litre
CONQUEROR
Heavy Duty Bactericidal Cleaner Concentrate

CONQUEROR is the perfect cleaner and degreaser for use in abattoirs, meat and poultry farms, and the food industry combining cleaning strength with a powerful bactericide. Ideal for food preparation equipment, floors, walls, drains, soak-ways and most other hard surfaces. Readily dissolves animal fats, grease, blood, protein and burnt-on carbon, leaving the surface bacteria-free. Manufactured to meet food industry standard EN 1276
General Hard Surface Cleaning: CONQUEROR should be used at a dilution of 10:1 with water for heavy soiling, 30:1 with water for medium soiling, 60:1 with water for light soiling. Spray onto the surface, agitate if necessary and rinse off with water
Soak Tank: CONQUEROR can be diluted in a tank for the cleaning of heavily contaminated items. Simply leave to soak until soiling is softened, then rinse clean with water
Steam Cleaning: For use through a steam cleaner, dilute CONQUEROR 50:50 with water and dispense into the solution tank. Feed this solution at varying settings from between 2% and 10% depending on the type and degree of contamination to be removed
Drains: Use CONQUEROR regularly for the prevention of grease build-up in drains, gutters and soak-ways
N.B:
Care should be taken to minimise contact time when using on aluminium surface
Packed in 5 litres and 25 litres - Free Sprayer with orders of 20 litres and over
£2.32 per litre
DIGESTER
Grease and Odour Control Drain Cleaner

DIGESTER is a specially selected blend of non-toxic natural microbes, which digest oils, fats, greases and other organic matter blocking drainage systems. This can then be flushed away, leaving grease free with no odour problems. DIGESTER is demonstrably more effective than conventional drain cleaners as a bio-film is formed which produces a continuous and renewable supply of highly active enzymes for fat and grease degradation. This bio-film adheres to the drainage system walls and is highly resistant to cleaning fluids and disinfectant, thus providing a longer lasting protection than caustic products which have a minimal contact time.
Regular application of DIGESTER will: -
Packed in 5 litres and 25 litres
£2.76 per litre
GENIE
Automatic Liquid Dishwash Detergent

A concentrated detergent dispensed through the dosing system for use in machine dishwashers. GENIE will remove heavy soil and stains from most types of dishes and cutlery, leaving them clean and sparkling. GENIE Contains powerful softeners which enhance detergency and enable it to be used in hard or soft water conditions. GENIE must only be used with the automatic dosing equipment. Immerse the detergent suction tube into the GENIE drum. The equipment will then automatically control the amount of detergent that is fed into the dishwashing machine.
Packed in 5 and 25 litres
£2.47 per litre
SPARKLE
Neutral Detergent Concentrate

SPARKLE
a concentrated neutral detergent/washing up liquid (50% more active power than Professional Washing Liquid), combines a powerful blend of detergents with high levels of skin conditioning agents, which make it ideal for dish and pot washing as well as general hard surface cleaning.
Dishwashing: Dilute at a rate of up to 30 ml per 50 litre of hot water. SPARKLE will clean even the greasiest kitchen utensils which can then be drained without streaking.
Walls, Floors and General Cleaning:
Dilute SPARKLE at the rate of up 50:1(10ml to 5 litre) of hot water. Apply by mop or sponge, leave for up to 5 minutes, depending upon degrees of soiling, before rinsing off with clean water.
Packed in 5 litres and 25 litres Free Pump Dispenser with orders of 20 litres and over
£1.35 per litre
STERICLEAN
Bactericidal Hand Cleaner

STERICLEAN the complete hand and body liquid soap for use in all situations where mild safe cleansing is required, coupled with efficient bactericidal action. STERICLEAN is odourless and is ideal for use in situations where high standards of personal hygiene and where sterile conditions are required. STERICLEAN has particular applications where food is handled and in medical situations. STERICLEAN contains a high concentration of a bactericide which is effective against both gram positive and gram negative bacteria, yet is completely safe to use on the skin
Packed in 4 x 5 litres
£2.58 per litre
STERISAN
Alcohol Hand Sanitiser and Hard Surface Cleaner

STERISAN is a liquid hand sanitizer and hard surface cleaner combining high performance alcoholís and bactericides Sterisan is suitable for use throughout the food industry as it is perfume free and non tainting
Packed in 5 litres containers
£3.29 per litre