NEW CA-1

Short Hood

Part No. 710100



New QuickLock version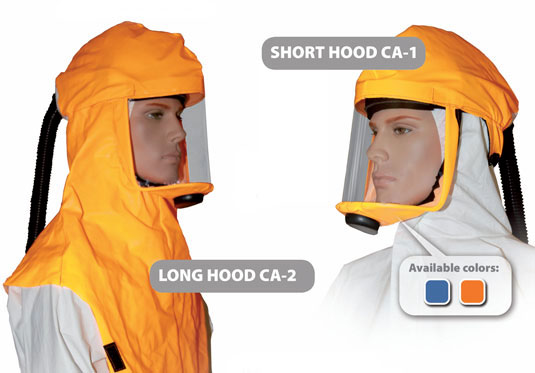 Clean Air Hood CA-1 available in Blue or Orange. Suitable for Dust and Chemical Protection Respirators shown below: Models CA Basic 2000, Chemical 2F, Chemical 3F, CA Chemical DF

Available in Orange, Blue or Grey
£49.75
NEW CA-2

Cape

Part No. 710200



New QuickLock version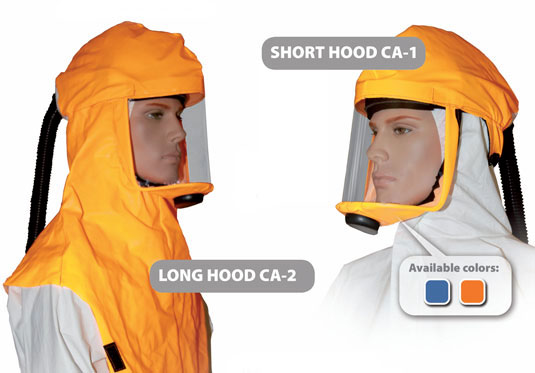 Clean Air Hood CA-2 available in Blue or Orange. Suitable for Dust and Chemical Protection Respirators shown below: Models CA Basic 2000, Chemical 2F, Chemical 3F, CA Chemical DF

Available in Orange, Blue or Grey

£75.00
CA- 3

Grinding Visor

Part No. 710300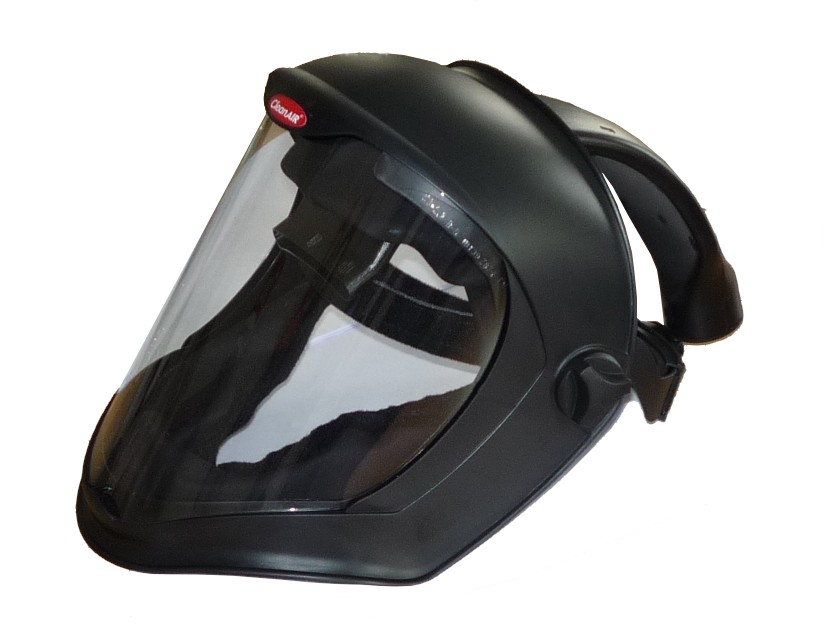 Clean Air Hood CA-3 Grinding Visor. Suitable for Dust and Chemical Protection Respirators shown below: Models CA Basic 2000, Chemical 2F, Chemical 3F, CA Chemical DF

Grinding Helmet System with a Browguard & Polycarbonate Face-Shield to EN166 1.3.B.9 Adjustable, elasticated face-seal. Medium energy impact
£136.00


CA-4

Hood with Safety Helmet

Part No. 710401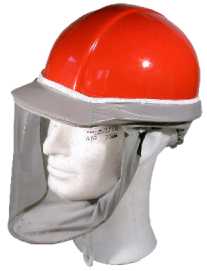 Clean Air Hood CA-4 Grinding Visor available in Orange. Suitable for Protection Respirators shown below: Models: CA Basic 2000 DF and FC, Chemical 3F and Chemical DF.
£122.00



NEW CA-20

Welding Hood with
V9-13 ADF DS

Part No. 702070F




CA-20

Welding Hood with
V9-13 ADF GDS

Part No. 702081F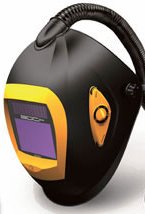 Welding hood CA-20 is of course designed for use with powered respiratory unit as well. Innovative solution of an integrated airduct integrated into the helmet shell and an individual adjustment of airflow direction provide the highest protection level.
THE ULTIMATE WELDING CONCEPT – WELDING HOOD CA-20 A new generation of welding helmet CA-20 with welding filter incorporating advanced Angular Dependence Compensation plus (ADC plus) technology uses a revolutionary concept of liquid crystals. This new welding filter with ADC plus technology has gained the DIN Plus certificate with the best possible results of optical quality (1/1/1/1).
CA-20 GDS • EXTERNAL ADJUSTABLE SHADE 6-8 / 9-13 • EXTERNAL ADJUSTABLE SENSITIVITY • EXTERNAL DELAY ADJUSTMENT • EXTERNAL GRINDING MODE CA-20 DS • ADJUSTABLE SHADE 9-13 • ADJUSTABLE SENSITIVITY • DELAY ADJUSTMENT
CA-20 with ADF DS
702070F
£430.00


CA-20 with ADF GDS
702081F
£450.00


New Clean Air Hose with QuickLock Connector

Part No: 710600

New CLEAN AIR QuickLock Connector
Hoses with QuickLock Connector replacing existing hoses for new 2018 hoods with this connector as shown in picture. (Old hoses for existing hoods are available on request)
£30.00


Clean Air Respirators
Photograph
Specification
Chemiclean's Price
"Clean Air" 2000DF
Basic Respirator
Part No. 800000XPAU
for Toxic Dusts Powders and Welding Fumes
NB. Right hand picture Respirator shown with CA-1 Hood purchased separately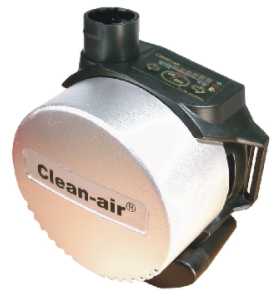 "Clean Air" 2000DF Basic Respirator excluding Hood
Respirator for Toxic Dusts and Powders
Cool, comfortable working conditions
Easy-breathing - particularly for long periods
Adjustment to Airflow with High & Low Switch
Audio and Visual warning indicators
Removable/rechargeable battery pack
All systems include a battery charger
Replacement Filter Cartridge PSL (Part No. 800010) is required, see below
£299.00
"Clean Air" 2000FC
Basic Respirator
Part No. 820000PAU
for Toxic Dusts Powders and Welding Fumes
NB. Right hand picture Respirator shown with CA-1 Hood purchased separately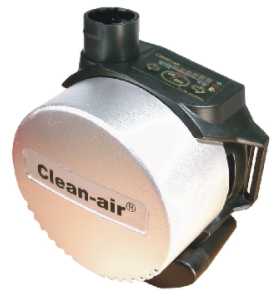 "Clean Air" Basic Respirator CA 2000FC excluding Hood
Respirator for Toxic Dusts and Powders
Computer-control of flow at a constant 160 litres/minute
Timed Battery Charger
Enhanced comfort waist-belt.
Audio and Visual warning indicators
Removable/rechargeable battery pack
All systems include a battery charger
Replacement Filter Cartridge PSL (Part No. 800010) is required, see below
£325.00
"Clean Air" EVO
Basic Respirator
Part No. 810000PAU
for Toxic Dusts Powders and Welding Fumes

"Clean Air" Basic EVO Respirator excluding Hood
Lightweight and compact
Li-lon battery
Adustable airflow in 5 levels (170 -210 lpm)
Electronic system of constant airflow
Audiovisual alarm
Indication of fliter clogging and battery charge
Newly designed LED control panel
Simple one button operation
New and easy click-lock system of attaching the filter cover
Charging time 4 - 5 hours. Operation time upto 10 hours
Areas of Application
Welding, grinding, surface finishing, joinery etc.
Dusty Industrial environments
Replacement Filter Cartridge PSL (Part No. 800010) is required, see below
£399.00
Clean Air Chemical 3F
Respirator
Part No. 520000FCAU
for Gas/Vapour, Toxic Dusts and Powders
Designed for Heavy Duty use with Extra Filtration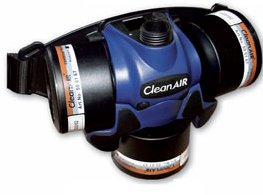 Clean Air Chemical 2F Respirator is part of the new generation of powered air purifying respirator designed to filtrate contaminants in the form of gases, vapours, particles and their combinations.

High durability, chemical, UV, and water resistance – IP64, makes the unit suitable for heavy industrial environments as well as for chemical plants, laboratories and pharmaceutical industries. Facts · Visual and acoustic warning system · Adjustable airflow levels · Proven Flow Control system maintains the selected air flow constant · Integrated LI-Ion battery pack allows operations up to 16 hours and can be charged on or off the unit. Meets EN 12941 TH3, EN 12942 TM3 regulations

TFL display showing:
1. Condition of the Filter 2. Adjustable Airflow 3. Battery level

Battery and Fast Charger: Li-ion with fast charger. 80% charge in
1 hour and fully charged in 3.5 hours. Operational time up to 16 hours
£660.00


Clean Air Chemical 2F
Respirator
Part No. 510000FDAU
for Gas/Vapour, Toxic Dusts and Powders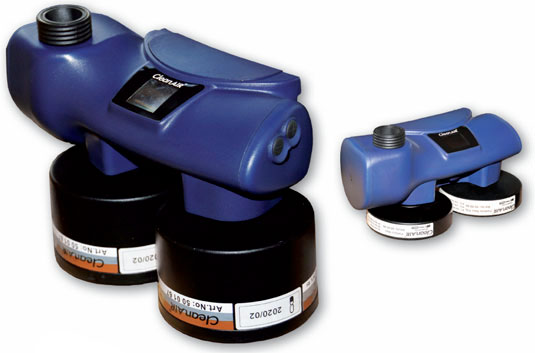 Clean Air Chemical 2F Respirator is part of the new generation of powered air purifying respirator designed to filtrate contaminants in the form of gases, vapours, particles and their combinations.

Despite its compact size and low weight , the chemical 2F unit has high mechanical chemical and UV resistant. The construction of the unit allows for easy decontamination in a shower thanks to ingress protection IP64. The unique automatic closing system prevents unwanted contamination of the unit by particles while the filters are being changed. Meets EN 12941 TH3, EN 12942 TM3 regulations

Full Colour TFT display showing:
1. Condition of the Filter 2. Adjustable Airflow 3. Battery level

Battery and Fast Charger: Li-ion with fast charger. 80% charge in
1 hour and fully charged in 3.5 hours. Operational time up to 16 hours
£630.00