Henry and Homecare Vacuum Cleaner Accessories and Spares
Numatic Accessories and Spares for all Numatic Domestic and Commercial Vacuum Cleaners, including Henry range.

Cannot find the Accessory or Spare Part? -
Use our Spare Parts Enquiry form
Spares/Accessories Dept:
01782 478707
The "George" is the most useful and versatile 3 in 1 carpet cleaner for cleaning carpets and upholstery. Also it can be used as a normal Vacuum Cleaner and Wet & Dry Vacuum Cleaner, scrubbing and drying hard floor surfaces, unblocking sinks etc. The combination of our highly efficient turboflo vacuum turbine and the powerflo pump system provides you with professional cleaning anytime, anywhere, providing exceptional results.
The "George" design is based entirely on our Cleantec professional range of carpet cleaners, designed to work extensively and for long hours, functioning to a professional standard. When it comes to dry vacuuming you can use a disposable bags with the same combination floor nozzle as the "Henry" Vacuum Cleaner. Also in the wet mode, a simple exchange of filter allows you to scrub and dry hard floors. See George Operating Manual
Specifications:- Model No. GVE 370-2, Power 1060 Watt, Airflow 45 Litres/sec, Suction 2100 mm
Dry Capacity 15 Litres, Wet Capacity 9 Litres, Extraction Capacity 6/6 Litres, Cleaning Range 26.8 metres
George Carpet Cleaner complete with Kit A26A (containing Carpet & Upholstery Kit, Floor Scrubbing Kit, Dry Vacuuming Kit with Free disposable Bags)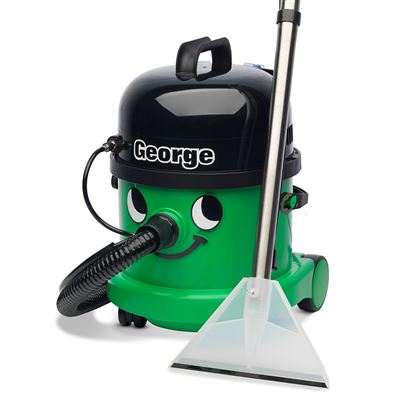 Our Price £255.00 + VAT - Free UK Delivery!
Additional Products:
COMET Low Foam Carpet Shampoo,packed in 5 litre containers £11.50 per 5 litres

SAS20 Carpet Stain Remover, packed in 1 litre bottles from £4.50 per 750ml bottle

Optional Extra:-Numatic "Hand Airobrush 140" for removing cat and dog hairs with the Dry vacuuming kit supplied with the A26A tool kit. Available in colours: Black or Red
Our Price £15.00 + VAT (Total Price incl VAT £26.40)
All Deals include Free 24/48 Hour Delivery to anywhere in the UK mainland
Telephone:

01782 478707

Email: sales@chemiclean.co.uk



We can provide credit accounts for Limited Companies on receipt of a credit application form or a company letter heading with registration number. Simply place you order using the Nett 30 Day Account option above and tick box for new account. New accounts can be opened within one working day. Schools, College, Health Authority, Local or Central Government Departments we will automatically open an account on receipt of the first order, simply place you order using the Nett 30 day Account option.