Product Range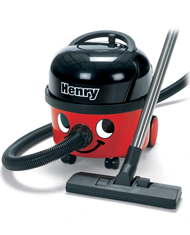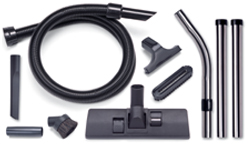 "Henry Micro" 620 watt Hi-Pro Vacuum Cleaner with "Microtex" filter
Henry the Classic vacuum cleaner with than 4,000,000 machines produced in 10 years, giving their best day in day out, but never without his famous smile. Henry is, however much more than a petty face, he is a full professional machine, that will be found far and wide, cleaning almost everywhere and everything from a Boeing 747 to Aunty Mary's rose covered cottage.
The "Henry Micro" 2015 version has been specially design for the removal of fine dusts with its special "Microtex" filter. Also the "Henry Micro" has a High performance 620 watt motor with 10m cable, unique rewind and storage system, folding carry handle. 99% efficient at 0.8 of a micron, Microtex 4-stage allergy approved filtration system. Simple to use Microflo dust bags, makes emptying so simple… and the cleaners even cleaner.

Approved by the British Allergy Foundation
"Henry" comes complete with a full set of Tools.
Available in Red as a standard colour, but also available to Special Order in Yellow, Green and Blue
Model No. HVR 200M-11
Powerful 620 watt Motor
Weight 8.6 kgs
2 year warranty excluding tools
Free 24/48 Hour Delivery to anywhere in the UK mainland.

Our
Price £140.00+ VAT

(£168.00 incl VAT)

Plus

HEPA-FLO

Disposable Bags FREE OF CHARGE







We can provide credit accounts for Limited Companies on receipt of a credit application form or a company letter heading with registration number. Simply place you order using the Nett 30 Day Account option above and tick box for new account. New accounts can be opened within one working day. Schools, College, Health Authority, Local or Central Government Departments we will automatically open an account on receipt of the first order, simply place you order using the Nett 30 day Account option.