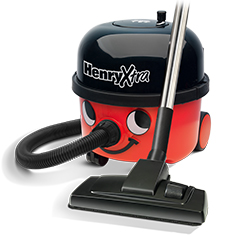 New 2015 Henry Extra Kit with additional Hard Floor Brush Nozzle

Henry Xtra is in everyway a true Henry (over 4,000,000 sold in 10 years) with its full professional tool kit and a 10 metre cable rewind system.

What makes "Henry Xtra" different from the standard Henry is the additional feature.
In additional to the standard comprehensive accessory kit there is ADDITIONAL Hard Floor Brush Nozzle for wooden laminated floors and Airo Power Brush Nozzle designed to remove pet hairs and improve the general standard of carpet care.
Whether you are a Home Owner or a Pet Owner or both the Henry Xtra with his cheeky little smile will equally bring a smile to your face. cleaning has just never been this good!!!
Henry Xtra" complete with a full set of tools including the New Airflow Nozzle for removing pet hairs
Available in Red only
Powerful Eco Friendly 620 watt Motor and HiFlo hose providing added AiroBrush performance
Model Hiflo HVX200
Part of the HiFlo Henry family
Weight 8.6 kgs
Dimensions 340 x 340 x 370m
2 year "return to base" warranty
24/48 hour free delivery anywhere in the UK mainland
The "HiFlo" Henry Extra £115.00 + VAT
Plus HEPA-FLO Disposable Bags FREE OF CHARGE
Spares Dept: We stock an extensive range of hoses, nozzles, cables and disposable bags click here for further details

Telephone: 0121-523 8833

or 0121-523 8844

Fax Orderline: 0121-554 1137

Email: sales@chemiclean.co.uk




We can provide credit accounts for Limited Companies on receipt of a credit application form or a company letter heading with registration number. Simply place you order using the Nett 30 Day Account option above and tick box for new account. New accounts can be opened within one working day. Schools, College, Health Authority, Local or Central Government Departments we will automatically open an account on receipt of the first order, simply place you order using the Nett 30 day Account option.