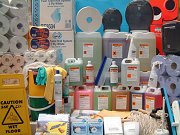 We supply a wide range of Quality Cleaning Materials and Valeting Products, including Interior Cleaning Products and Vinyl Polishes, Chewing Gum Remover, Graffiti Remover, Traffic Film Removers, Wax and Wash Shampoo. Numatic range of Vacuum Cleaners and Carpet Cleaners. All our products can be delivered anywhere in the UK mainland in 24/48 hours. The purpose of this page is to provide a brief list of our range of cleaning products. Further information can be obtained by clicking on the various categories or requesting a Brochure and Price List at the bottom of this page.

Bus, Coach and Train Operators - Valeting Product Range
Please select products of interest to obtain more information

Hand Wash Shampoo
Hand Wash Shampoo with Wax
Concentrated Traffic Film Removers
Chassis Wash
Rinse Aid with wax finish



Albrite Alloy Wheel Cleaner for Mini Buses A concentrated blend of inhibited acids and surface active agents specially formulated to remove rust, scale and brake dust from alloy wheels, without hard scrubbing.

Great Prices on Prices on Vacuum Cleaners and Carpet Cleaners "Click on Pictures"

Look! Numatic RSV130 "Rucksack" Vacuum Cleaner

- A light vacuum cleaner , that you carry on your back. Ideal for cleaning seats on a 53 seater coach

Pumps & Sprayers
GUM GONE
Chewing Gum Remover
Fast acting, Environmentally Friendly, Chewing Gum Remover with a Citrus Fragrance, that removes chewing gum from most Hard Surfaces, Carpets and Upholstery safely, without the use of harmful chlorinated solvents.

Hydra-Flexi Blade
The Hydra-Flexi Blade are supersoft silicone "squeegies" for quick drying of vehicles (or any hard, smooth surface). It works by sweeping water droplets away instantly - leaving surfaces virtually dry and smear-free.

Quality and Service with a Smile!!!
SHIPPING: We offer a free 24/48 hour delivery service (subject to stock availability) on all goods over the value of £35.00 excluding VAT. This is not a guaranteed service, but every order that is received before 2.30pm on any working day (Monday to Friday) is dispatched by overnight carrier, who will endeavour to deliver the next working day Monday to Friday between 9am and 5 pm. Any delay in shipping your order, we will notify you by email or telephone as soon as possible.
Chemiclean Products PO Box 2487, Hockley, Birmingham, United Kingdom. Telephone: +44 (0)121-523 8833 & +44 (0)121-523 8844 Fax: +44 (0)121-554 1137

Registered Office: Chemiclean Products Limited and Chemiclean Europa PO Box 2487, Hockley, Birmingham, B18 5JN, United Kingdom. VAT No. GB 313722684
© Chemiclean Products including registered names "Chemiclean", "Mr. Chemiclean" and "Chemiclean Europa" All Rights Reserved.