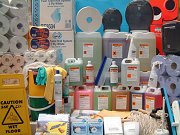 Online Credit Application Form
Please complete the simple application form below, then submit the form agreeing to our account terms, together with your order. We will process you application ASAP and will advise you that your account has been opened. Your order will normally be dispatched within 24/48 hours of the account being opened. All fields must be completed and your initial order submitted or your application maybe delayed.
---
Please open a credit account on our behalf and I accept your invoice terms of Nett 30 days. I hereby authorise Chemiclean Products to obtain a credit reference or a personal consumer credit reference, if the business is a sole trader or partnership. I understand that N2Check Credit Services will be employed to obtain this credit reference and will keep a record of this information.
Quality and Service with a Smile!!!