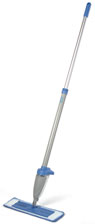 Designed and manufactured by Numatic International, the most robust and versatile flat mopping system to use for damp mopping and as polish applicator. The Numatic Spray Mop has a full 40cm (16") Microfibre Mop Head with its own 400ml detachable bottle for re-filling, that can be hand or foot operated to apply small quantities at a time of floor cleaner, metalised polish or water, as required to keep the mop damp to clean or polish the floor. The Henry Spray Mop is very efficient and economical in the use with cleaning solutions and polish.
Microfibre Mops are manufactured from two very fine fibres, 70% polyester (which absorbs grease and dirt) and 30% polyamide (nylon fibre that absorbs water). The density and the absorbent properties of microfibre, enables it to absorb 6 times it own weight in water, making it more absorbent than a conventional cotton mop. Also, when the mop becomes dirty, it can easily be cleaned by hand washing or can be laundered in a washing machine. The Microfibre Mop is available in two types "Standard" and "Deep Clean" for where surfaces are subject to greater soiling and spot removal is a constant consideration.
The Numatic Spraymop is light and easy to use, versatile and economical with cleaning fluids.
Numatic Spraymop complete with bottle and aluminium handle
£29.75 each

New Microfibre NyloStripe Mop

The NEW Deep Clean Retention Mop with a NyloStripe to provide a scrubbing action, when mopping. Colour: White with Grey/Blue Stripe.

629143 (singles)

629219 (Bulk Pack of 10)

£6.40 each

£58.00 per 10

627639 Spray Mop 400ml Replacement Bottle
£7.00 each
We offer deliver free delivery on any Numatic Machines to anywhere in the UK mainland. We supply a wide range of Spares for all machines, delivered within 24/48 hours from receipt of order.



We can provide credit accounts for Limited Companies on receipt of a credit application form or a company letter heading with registration number. Simply place you order using the Nett 30 Day Account option above and tick box for new account. New accounts can be opened within one working day. Schools, College, Health Authority, Local or Central Government Departments we will automatically open an account on receipt of the first order, simply place you order using the Nett 30 day Account option.
Return to Janitorial Supplies Return to Home Page
Quality and Service with a Smile!!!