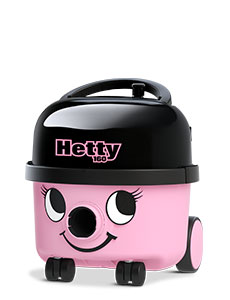 Complete with tool Kit AS0
"Hetty" short for Henrietta - Henry's new sister!!!
Special Offer while stocks last!!! A Free Hetty Shopping Bag with every purchase!
Everyone knows Henry, Europe's favourite vacuum cleaner with now over six million in use; bringing a smile to those cleaning chores. Henry has now got a friend … Hetty. So you now have a choice …. Henry or Hetty … or both! Hetty is not just a pretty face, she has all of the Henry features.
"Hetty "comes complete with a full set of Stainless Steel Tools (kit AS1)
Model No. HET 160-11
New Powerful 620 watt energy saving motor with new HiFlo suction technology giving improved suction.
30% Improved Air Quality with New HEPA-FLO Disposable Bags (14 times more efficient than paper bags in collecting fine dust as small as 0.2 microns)
Weight 8.6 kgs
2 year warranty on Vacuum Cleaner and 6 months warranty on tools
24/48 hour free delivery anywhere in the UK mainland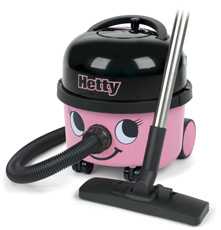 The New Hetty 160 Compact Vacuum Cleaner
(Henry' s sister)
The "cute" little pink vacuum cleaner £99.75 + VAT

Plus HEPA-FLO Disposable Bags FREE OF CHARGE
The New Hetty 160 Plus £119.00 + VAT
Plus HEPA-FLO Bags FREE OF CHARGE

The New Hetty Plus has all the same features as the "Hetty" including a full tool kit with an additional Hard Floor Brush shown above. Specially designed for cleaning laminated floors and other hard floor surfaces.
Spares Dept: We stock an extensive range of hoses, nozzles, cables and disposable bags click here for further details
Telephone: 0121-523 8833

or 0121-523 8844

Email: sales@chemiclean.co.uk


New accounts can be opened within one working day. Schools, College, Health Authority, Local or Central Government Departments we will automatically open an account on receipt of the first order, simply place you order using the Nett 30 day Account option. Click here for New Account Application Form - requires Adobe Reader (PDF format)